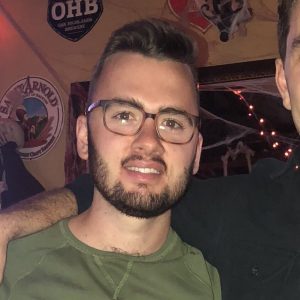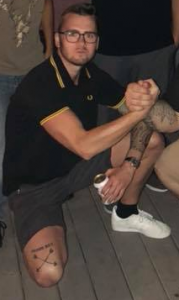 Stephen Hartley founded and leads (Or did lead at some point) the Philadelphia chapter of the Proud Boys. The first evidence was a reddit post from 2016, gauging interest in starting a Philadelphia chapter of the group. Stephen was one of the first adherents. Several other participants caught on, leading them to create this convenient map showing who was involved at this point. Several of these initial responders seemed to have drifted off somewhere along the way or just maintained casual friendships with these shitty people, but a few are familiar.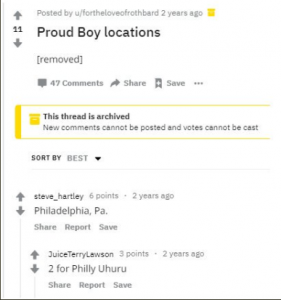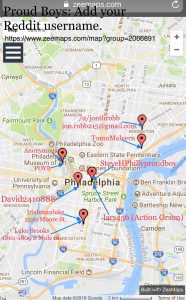 Stephen is a 3rd degree Proud Boy, meaning he has gotten some mark of his Proud Boy affiliation tattooed somewhere visible on his body.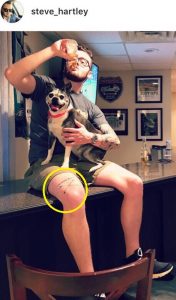 Stephen networked with other local Proud Boys around the Northeast, styling himself a big fish in this world.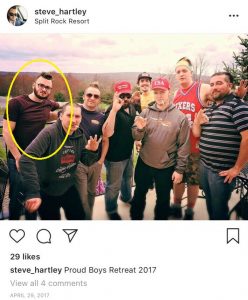 (Stephen and vice president Tom Moerman on a retreat with another Proud Boy chapter pretty early on)
He continued to climb the ranks, meeting particularly abrasive far-right demagogues like Milo Yiannapoulos, and the violent Nazi Proud Boy Sal Cipolla.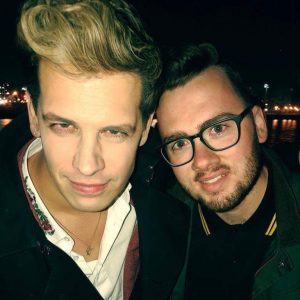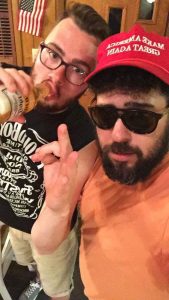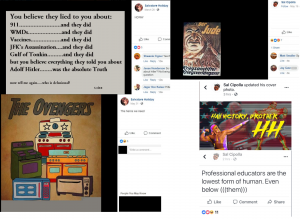 He even found himself invited to an exclusive boat party in New York, with Milo among the guest list, along with Proud Boys Founder Gavin McInnes. He also joined in for West Fest, a Far-Right music festival attended primarily by Proud Boys from around the nation. His unrepentantly gleeful association and admiration of these figures speaks for itself, as does his feverish dedication to their activities.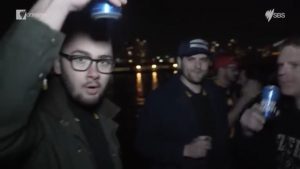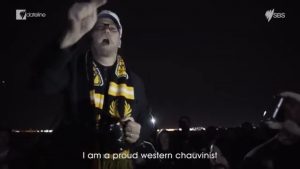 At some point during 2018 it seems as though he established relations with the group Sports, Beer, and Politics, socializing with their main organizers Zach Rehl.
Stephen was formerly employed at American Expediting but was very quickly fired when they found that the president of a far-right hate group had access to people's addresses. There is a rumor floating around that he was not actually fired however, and that the company covered for him.